"It's the 2-4:30 shift. We're volunteering to pour beer at the Food and Wine Fest," Phil said. I'm always up for mingling in festive crowds and if food and wine pairings are involved, it is sure to be fun.
The day was beautiful. Blue skies, even temperatures, and soft clouds. A perfect Texas fall day.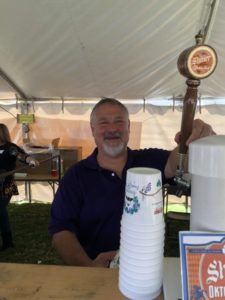 We started off early, but by the time we waded through the crowds, we barely had time to settle in before we began pouring beer for thirsty lines of people at the Texas Craft Beer tent. At a festival named and dedicated to the art of food and wine, we had a healthy turnout of people excited to taste brews from Real Ale Brewing, Alstadt Beer, Boerne Brewery, Shiner, and Pedernales Brewing/Uncle Billy's Brewery.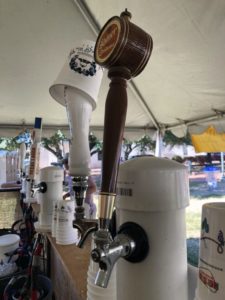 The real fun of the festivities is the people one meets from so many parts of the world. A young man from Brazil wanted to try craft beers from Texas and a couple visiting from San Luis Obispo, California asked questions about next year's Oktoberfest while they tasted our local Alt beer from Alstadt Brewing. With so many things to engage the senses, the Fredericksburg Food and Wine Fest is a must experience event.
By the time we could catch a breath and the last of the taps was finished, it was 6:30 p.m. and we were hungry. There were still many tents of food, wine, and wares open and the music and dancing continued. Scents of lavender, olive oil, and simmering food filled the air along with the vibrant sound of live salsa music. No one wanted to leave and the dance floor was still rocking when we left the grounds.
"Next year, we're volunteering for Oktoberfest as well as the Food and Wine Fest," Phil said.
If next year is as fun as this year, I'm all in.