Saturday of Memorial Day Weekend was all clear skies in a blue wash so we headed out in our quest for peaches and cider.
We first hit Hye Cider Company in Hye, Texas, for some Hye Notes and some Hye Stylin'.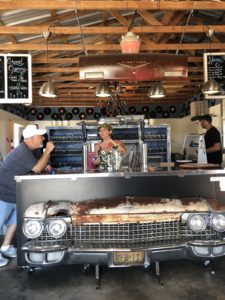 Fun, eclectic, and some of the best cider–hands down–marked our time at Hye Cider Company. Cherry is fun and oh so! knowledgeable about her craft. Her best friend and sidekick is her partner in crime, but he preferred to stay back where the cider was happening. She sources her apples from a grower she trusts in the state of Washington and the end product is perfect. Clear and not too sweet, both ciders lack the added sugar found in so many of the ciders on the market. She will also tell you that she is dedicated to small batches and she speaks eloquently about the process. It is easy to tell that she is inspired by what she does.
Cherry also pointed out the lone 2-by-4 that they bought to refurbish the interior. Everything else was lovingly salvaged. It is a wonderful mix of textures and materials. On the grounds, a double decker bus named Fish N' Chips is awaiting their renovating touch.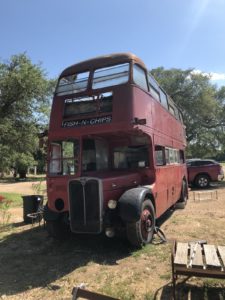 Cherry's husband, Travis, is a wonderful chef and we have had his food at the Pig Pen at Albert Ice House and Dancehall.
However, Kyle mans the food truck at Hye Cider Company and it was delicious. I had the grilled cheese that was like no other grilled cheese and Phil had a pizza. They were delicious. He also regaled us with stories and we enjoyed our time.
From there, we headed in search of peaches and it is supposed to be a bumper crop this year. We ended up at Gold Orchards.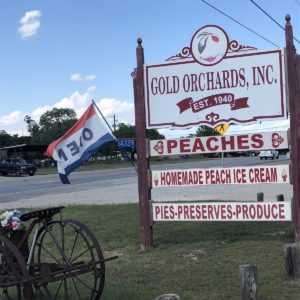 Gorgeous peach pies, peach bread, peach cobbler, and peach ice cream were on the menu, but the actual treats were in various stages of baking and the aroma was intoxicating. One could suppose they're already honing their skills for the famous Peach JAMboree in June.
If you like peaches, now is the time of year to get some of the best around. And the ice cream is amazing. Ask anyone.
Better yet, I walked away with a stash of peaches that were something next to heaven.