Trade Days in Texas Hill Country is a 'thing' for treasure hunters and adventurous souls.
Friday was hot. The mercury was as high as the cacti were sharp. And that is unusual for this time of year, but it did not stop me from going to Trade Days.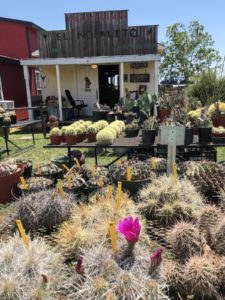 So I filled a water bottle and headed out to find treasure. The crowds are lighter on Fridays. Saturday and Sunday are usually hopping which means a longer walk back toting bags. There's just about always something for everybody including the birds.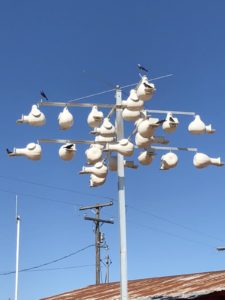 I noticed this time a lot of people were pulling or pushing carts and I felt mildly irritated I hadn't thought about it myself since my water bottle was already heavy, the day had just begun, and there was plenty of treasure waiting to be discovered. Starting on the left, I worked my way around the Fiesta Ware barn and headed straight for a booth occupied by an amazingly talented and sweet designer, Kaitlin Watson at Mal West, whose earrings and handbags immediately went onto my bucket list.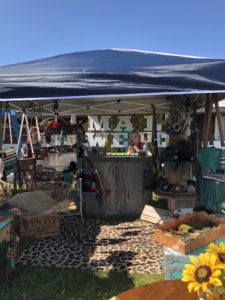 The amazing thing about Trade Days is the representation of artisans, writers, antique booths, food shops, crafters, music, and the really fun treasure towards the back–the DIY-stuff-waiting-to-happen–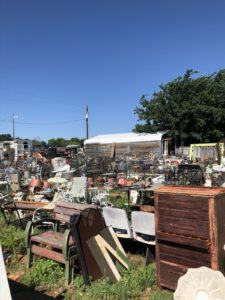 and the DIY-stuff-already-created–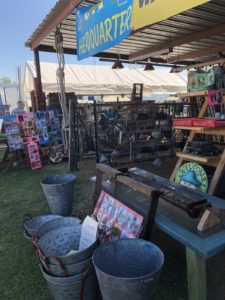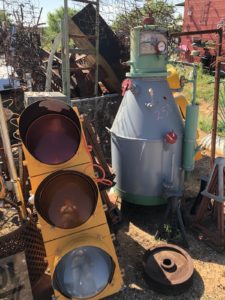 …and the genuine treasure-packed junkers area where the truly imaginative find ideas  for their creative souls.
There was an especially enticing spot that sported a tropical feel (tiki umbrella and all) where a vintage trailer sat waiting for some gypsy-hearted soul to claim it and find its former glory. It had functioning vintage appliances and air conditioning and it is for sale in case you're in the market for a little DIY.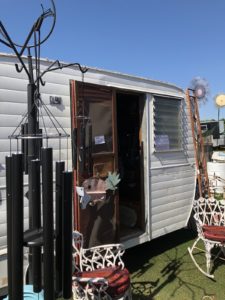 But besides the outside barns, stalls, and tables, the inside barns are for those who have been represented at Trade Days for years. The fans whirring, I made my way through the barns that anchor the sides of Trade Days.
Sometimes, it makes me feel nostalgic. One antique booth was arranged like an old-fashioned store and I swear it had the scent of my Grandmother's root cellar. Talk about a bygone era–one that was already passed as I was growing up. I often wonder what the new owners of her house did with that root cellar that shelved all the hard won canning of peaches and green beans. I always thought it was a particular torture that much of the canning occurred in the hottest months of the year and there was no air conditioning to take the bite off the heat. Needless to say, there is magic in memories and treasure in their keeping.
In another booth, an artisan was selling beautiful items made from goat and sheep products and she had a few of her babies with her. At 6 weeks old, they already had a fan following.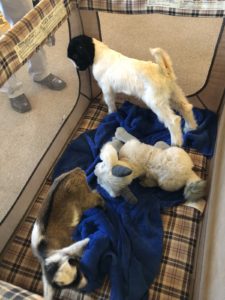 But in the middle of everything is the biergarten where music and spirits are high. Vintage and eclectic, you can bring in your food from the food trucks and stalls and listen to whomever is on schedule. It's always someone rockin' talented.
For me, I'm heading back next month for something else on my treasure bucket list at a long time booth in one of the barns–The Turquoise People. And check them out on facebook for notice of sales and new items.
I am head-over-heels in love with the color turquoise at Trade Days. But there are so many treasure corners waiting for you to explore every third weekend of every month.
See you there!