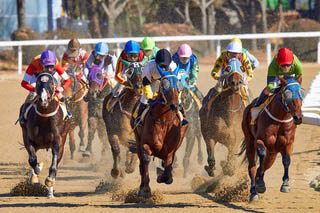 Lost Draw Cellars hosted a Kentucky Derby party, Derby at the Draw, on Saturday, May 5, 2018, that sported a large screen to watch "the most exciting and fastest 2 minutes in sports." Everybody there was in full derby spirit. Along with several notable traditions, roses and horses festooned the tables and festive hats were adorned by all.
It was not Churchill Downs, but the sun was shining Texas-style.
Friday had been stormy. Not just mildly stormy. Full on window-rattling knock-you-off-your-feet stormy. Winds howled at 35-50 mph, lightning flashed and thunder boomed knocking out power around town, cows and horses sought the buffer of tree lines, chickens cowered on roosts, birds hovered in trees, and furniture blew sideways. My composter levitated and flew into a field leaving decomposing matter strewn throughout my yard. As the cold front moved east, drenching rains filled ponds, streams, and gullies.
But Saturday dawned clear with blue skies–perfect derby party weather.
Lost Draw Cellars served up a knock off of the traditional mint julep, the Lost Draw Jock-tail, that was delicious and put everyone in high spirits. Bourbon whiskey was switched out and Lost Draw's own dessert wine, LDC Cheval, took its place as the star of the drink. The mint julep—an iced drink consisting of bourbon, mint, and sugar syrup, is the traditional beverage of the race and is traditionally served in a frosted silver julep cup, but most Derby attendees now sip theirs from souvenir glasses that have become a tradition since 1939. True to that tradition, we sipped our Jock-tails from a Lost Draw souvenir wine glass made for the occasion.
From Kentucky to Texas, it is a small world. I approached a table of women sporting particularly festive hats. One of the women from Dallas, has a son who is studying at our son's college and is in the same fraternity and that proves that we are always interconnected and just seven degrees from separation. Texts with Patrick confirmed that they know each other well. Funny world.
Stephen Morris serenaded us and Vivere Catering supplied delicious food. Sausage stuffed mushrooms, pulled pork and coleslaw sliders, and beef tenderloin skewered with onions and peppers were served by circulating gracious servers. A table well stocked and maintained with chips, guacamole, shrimp ceviche, assorted vegetables, hummus, and pita bread kept everyone milling near the Jock-tail station.
We placed our bets, placing them in one of 20 silver buckets, and waited.
The 144th running of the Kentucky Derby was open to 20 horses, with a purse of $2 million. Held annually in Kentucky on the first Saturday of May, "The Run for the Roses" dirt track race is held for 3-yr old thoroughbreds at a distance of 1 ¼ miles. But that dirt track was now a mud track. Our Friday storm was visiting Churchill Downs. The driving rain pelted the track right before "My Kentucky Home" was sung by the crowd and so began the wettest race in the history of the Kentucky Derby.
5:34 p.m. was the Call to the Post as the horses were paraded before the grandstands and the band played "My Old Kentucky Home," a tradition dating back to 1921. As the horses lined up, we amassed, Jock-tails in hand, to watch the excitement of the Kentucky Derby.
"Riders Up."
Two minutes of thundering hooves, adrenaline pumping competition, and mud flying stakes and the favorite, Justify, won breaking a 136-year-old curse, striding among the leaders for much of the race before taking the lead down the stretch. Justify became the first since 1882 to win as a 3 year old without racing as a 2 year old. Justify ran the 3rd fastest half mile in Derby history despite the storm-ruined track conditions.
Even after the race was over, few were prepared to leave. The breeze was soft, the late afternoon sun was lazy, and the fountains were soothing. All in all, it was a beautiful day and Lost Draw Cellars is a wonderful corner (mid-block) of Texas Hill Country.